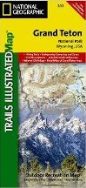 Welcome to TetonHikingTrails.com
TetonHikingTrails.com

is the most comprehensive site on the internet for hiking trail information in Grand Teton National Park. We provide detailed information on more than 45 hikes in the Grand Tetons, including trail descriptions, photographs, key features, difficulty ratings, maps and elevation profiles. Unlike the national trail websites, we've personally hiked every trail covered on this website to give you a consistent overview of each hike. Whether you're looking for an easy stroll, or an epic hike deep into Grand Teton's backcountry, we provide all the tools you'll need to make your hiking trip as enjoyable as possible.
To begin your next Grand Teton hiking adventure, simply click on one of the trail directories below:





About Grand Teton National Park


Encompassing roughly 310,000 acres, and with eight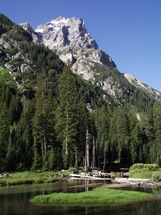 peaks topping out at more than 12,000 feet, Grand Teton National Park is home to some of the most spectacular scenery on Earth. With more than 240 miles of trails meandering throughout the park, the Grand Tetons are also widely recognized as a hiker's paradise. To learn more about hiking in the Tetons, and everything the park has to offer, including information on hiking in bear country, a list of our top 10 hikes in Grand Teton National Park, as well as many other hiking and travel related articles, tips and recommendations, please visit our About GTNP page.

If planning an overnight stay, be sure to visit our Accommodations page to find a wide variety of lodging options surrounding the park.
Guide Books and Maps for Grand Teton National Park

Hiking Grand Teton National Park is the authoritative guide to all hiking trails in Grand Teton National Park - from short easy day trips to multi-day backcountry adventures. In addition to invaluable trip-planning information, the book contains GPS-compatible maps for each trail, full-color photos, difficulty ratings, best hiking seasons, as well as a handy trail finder.



Best Easy Day Hikes Grand Teton National Park includes descriptions and detailed maps for 20 easy-to-follow hikes through some of the park's most magnificent scenery. This book offers hikes for everyone, including families, from after-dinner strolls to full-day hikes. The handy trail finder allows readers to find the best hikes for children, waterfalls, views, or wildflowers.

Lonely Planet Yellowstone & Grand Teton National Parks Two expert authors with more than 500 hours of in-park research provide in-depth information on trip planning, hiking and camping in Yellowstone and Grand Teton National Parks. The book also provides information on other activities such as biking, boating, fishing, horseback riding, rock climbing and winter sports.
To see all of our books related to hiking, history and travel in Grand Teton National Park, Yellowstone National Park, and the surrounding region, please visit our hiking book store.